About Emily Davis
For the first time in their life, Emily Davis is making music for themself. No longer afraid of hiding behind what's expected, or bending to the will of perceptions, they are instead turning to the freedom of catharsis. On their latest EP Living in the Past Tense, produced by Scott Hallquist of punk band Ten Foot Pole, Davis is peeling back the protective layers that have shielded them from true introspection and learning to be as openly honest and abrasive as they can about their lived experiences. By processing both painful and poignant reflections, the El Paso based songwriter has moved into a new phase, and welcomes others to join the reprieve on the EP's release on June 30th, via Hogar Records.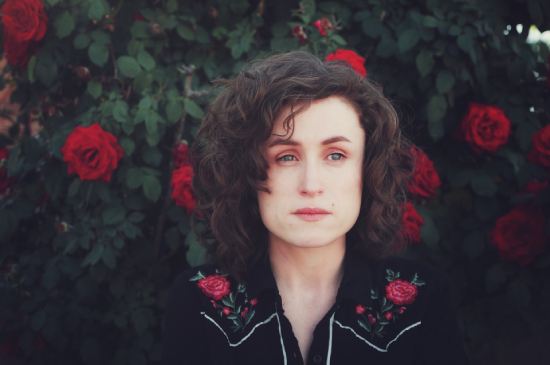 Davis spent the first half of their career as a solo musician, before forming alt-folk-punk band Emily Davis and The Murder Police, as well as folk duo Cult Loveless. The bands garnered acclaim for their texturally dynamic arrangements and melodic prowess, with Emily Davis and The Murder Police opening up for the likes of Neko Case, Cold War Kids and Bad Religion. Davis still finds a home in these projects but for the past few years, they felt other songs bubbling under the surface; ones that needed to blossom elsewhere.
"Something that's been an identifying quality for me over the last few years is my sobriety," they explain. Ironically, none of the songs on Living in the Past Tense deal explicitly with sobriety, but there's an aspect of looking more broadly at the ways you can improve yourself. Living in the Past Tense is the result of an inward spotlight, where the collage of past selves convenes to form a montage reality, drawing attention to the details you might've missed before. "Going to therapy, working on sobriety and reexamining certain aspects of my life, it was important for me to have a catharsis in the form of songwriting," they say.
The thematic landscape of Living in the Past Tense sees Davis celebrate the strength that emerged from some of their darkest moments. Acoustically-driven album opener "Phantom Limb" is a bold step of vulnerability, propelled by others speaking up about their experience of abuse in the local music scene. "I think it's important when you have the opportunity to speak up about abuse, if you've survived abuse," they say. "It's good to take advantage of that."
Davis doesn't shy away from tricky topics, with the EP also dealing with eating disorders, the grief of losing your place in the world and wishing for the return of someone who never will. Closer "Connie Francis" is a particularly poignant moment, detailing the loss of Davis' grandmother but more so, the pain in witnessing their grandfather's heartache. "People lose one another consistently throughout life but to see him in the final stages of his life, trying to cope with the loss of the woman he loved, was really hard," they say. It's this delicately tender approach that cements Living in the Past Tense as Davis' most intimate work to date.
This intimacy extends to the EP's sonic universe and the creative collaboration of Davis' husband and bandmate Jorge Torres. Describing it as a continued documentation of their ongoing life together––creatively and otherwise––Torres contributed bass, electric guitar and co-production. For Davis, the EP was a chance to explore a sonic territory that could be stripped
back, with some songs recorded in just a few takes ("Skin & Teeth") and others allowing for Torres' slight flourishment.
Living in the Past Tense might be an EP detailing the turmoil of previous selves, and the lingering echo of difficult experiences, but it's also a celebration of the steps we take to keep going. Through soft arrangements, exposed performances and an unraveling intimacy, Emily Davis picks apart their reflection with a compassionate and invigorating energy, accepting the complicated, mysterious ways in which it was formed. It might have been a bumpy ride, but Living in the Past Tense revels in the destination.
- Sammy Maine